OTTAWA Intellectual Property / Technology / Business Lawyers
---
Ontario Ministry of Citizenship & Immigration
Ontario Legislative Assembly, Queens Park Toronto
Province of Ontario
Ontario Courts
Crown Publications
Canada Federal Parliament & Law Courts
Canada Acts & Regulatory Organizations
Other Provinces
Populations of Provinces & Cities
Finding & choosing Canadian Lawyers
CanadaLegal.info
How do you find a intellectual property lawyer in Canada's Capital city? How do you decide which one to use? What is the difference between Copyrights / Trademarks / Trade Secrets / Patents - and how do they relate to your business or personaal property? see lawyers listings
| Patent Lawyers | CopyRight Specialists |
Intellectual Property - Copyright Specialists Exemplar IP-IT Community Listings
Education

B.Sc., Biotechnology, Simon Fraser University
M.Sc., Biotechnology, San Diego State University
LL.B., McGill University
B.C.L., McGill University

Professional Involvement

Biotechnology Industry Organization (BIO) bio.org
Canadian Bar Association (CBA)
International Trademark Association (INTA)
International Association for the Protection of Intellectual Property (AIPPI) / Association Internationale pour la Protection de la Propriété Intellectuelle / Internationale Vereinigung fûr den Schutz des Geistigen Eigentums
www.aippi.org
Law Society of Upper Canada (Ontario)
Law Society of British Columbia
Licensing Executive Society (LES)
Ottawa Life Science Counsel (OLSC)
The International Federation of Intellectual Property Attorneys (FICPI)
Faculty of Law, University of Ottawa (Adjunct Professor)

[quoted from www.mbm.com/people/bios/marusyk.html 2007.01.18
Marusyk Miller & Swain, LLP Intellectual Property Lawyers
MBM & Co. Patent and Trademark Agency
270 Albert Street
14th Floor
Ottawa, Ontario K1P 5G8 Canada
Telephone: 613.567.0762
Email: mbm@mbm.com
website: MBM.com
* * * * * * * * * * * *
A David Morrow,
Barrister and Solicitor, Patent and Trade-mark Agent
Smart & Biggar - Ottawa Office
Practice Areas: Patents, Trade-marks, Copyright & Media, Litigation, Biotechnology/ Pharmaceutical, Chemical, Electrical/ Electronics, Industrial/ Mechanical
Qualifications: Ontario Bar 1968. Carleton University B.Sc. (Physics) 1963. University of Ottawa LL.B. 1966. Registered Trade-mark Agent 1968. Registered Patent Agent 1969. Registered to practise before the United States Patent and Trademark Office.

A David Morrow
Smart & Biggar/Fetherstonhaugh
P.O. Box 2999, Station D
900-55 Metcalfe Street
Ottawa, Ontario K1P 5Y6
Phone: 613.232.2486
Web site: www.smart-biggar.ca/Professionals


* * * * * * * * * * * *
Bayo Odutola, BCL LLB
Odutola Law Chambers
280 Albert Street, Suite 300
Ottawa ON K1P 5G8
Canada
Telephone: 613.238.1140
Website: Odutola.com
Email: inquiries@odutola.com

"Professional Education:
Université de Lausanne, Lausanne, Switzerland (B.C.L., 1990);
University of Ottawa (LL.B., 1994).
Registered Trademark Agent (1996, Canada);
Old Cliftonian Society, United Kingdom;
Member, Board of Directors, Ottawa Law Review (1992-94);
Professor of Law, Electronic Commerce, University of Ottawa (2003 - );
co-Author, Odutola on Canadian Trade-mark Practice, 2004, Thomson Carswell, (Supplement 2005- );
Recipient, Top 40 under 40, 2004.
Organization Member:
Law Society of Upper Canada; Intellectual Property Institute of Canada; International Trademark Association; Pharmaceutical Trademarks Group; Association for the Protection of Industrial Property; International Bar Association; Ottawa Centre for Research and Innovation. Languages: English and French.

Legal Practice Areas: Trademarks; Copyrights; Intellectual Property; Industrial Designs; Domain Names; E-Commerce; Licensing; Information Technology; Unfair Competition; Portfolio Management; Intellectual Property, Counterfeit and Anti-Piracy Enforcement and Related Litigation" [quote from profile provided by Bayo Odutola to Lexis/Nexus listing 2007.01.20]
* * * * * * * * * * * *
J Guy Potvin, P.Eng.
Milton, Geller LLP - Business & Intellectual Property Law
Suite 700, 225 Metcalfe Street,
Ottawa, Ontario
CANADA K2P 1P2
Telephone: 613-567-7824
Web site: www.miltongeller.com


---
PATENT SPECIALISTS - Ottawa
John Kevin Carton
LL.B., B.Sc. (environmental biology)
Barrister & Solicitor, Registered Patent & Trademark Agent
Certified by the Ontario Law Society as a specialist in Patent Law

Web site: www.macerajarzyna.com/pages/j_carton.htm Macera & Jarzyna LLP


Elizabeth Elliott
B. A. Sc. (Civil Engineering); P. Eng.;
LL.B. Barrister & Solicitor
Registered Patent and Trade-mark Agent
Certified by the [Ontario] Law Society as a Specialist in Intellectual Property Law
Web site:
www.macerajarzyna.com/pages/e_elliott.htm
Macera & Jarzyna LLP


W Charles
Kent Ridout & Maybee LLP


John Stephen Macera
Macera & Jarzyna
www.macerajarzyna.com


G Alexander Macklin QC
"Mr. Macklin is a certified specialist in intellectual property (patents) law, as well as in civil litigation. His practice focuses on intellectual property litigation."
Gowling Lafleur Henderson LLP
www.gowlings.com/professionals
160 Elgin Street
Suite 2600
Ottawa, Ontario
Canada K1P 1C3 Ph: (613) 233-1781


R. Marusyk
Marusyk Miller & Swain LLP/ MBM & Co.
Website: www.mbm.com/people/patent.html


A David Morrow
Smart & Biggar


J Guy Potvin
Milton, Geller LLP


---
Web site Disclaimer
This site lists lawyers with areas of practice including Canada Intellectual Property / Patents / Trade Mark Law - we advise you to verify if the lawyer is still maintaining their certification directly by going to the Law Society Web Site or phoning them www.lsuc.ca as lawyers move or change areas of specialization over time.
The intent of this web-site is to provide "starting points" for people looking for sources of legal information and specialists. Information on this web site is not to be seen as legal advice -- for that you directly consult a lawyer.
This site is not endorsed by web sites to which it provides links to, unless otherwise noted, where a particular lawyer has volunteered to become a content contributor.
Credits
Photo of Ottawa's Parliament Buildings and Toronto city view are from Adrienne S. Chan, Ph.D, a Vancouver based consultant in diversity/ anti-racism/ multiculturalism training, research, organizational development, program development and review. See www.GetDiversity.com
See also her work in 2004 with the Vancouver school board on the issues of antiracism program review in light of seeming increased violence in the school system School's .... combat racism - report
Errors or Omissions
If any lawyer-firm notes that we have made an error or omission in our mention of them on this web site, please send us email with the appropriate information.
OTTAWA Intellectual Property: Copyright · Trademark · Patent · Technology Lawyers


Branding & Trade-Marks Handbook for Charitable & Not-For-Profit Organizations
(Butterworths, 2006)
by Intellectual Property Lawyers & Trade Mark Agents Terrence Carter LLB & U. Shen Goh, LLB LLM
Carters.CA Toronto, Orangeville & Ottawa Offices
for book see Butterworths Catalog & Online Bookstore www.lexisnexis.ca/bookstore/bookinfo.php
* * *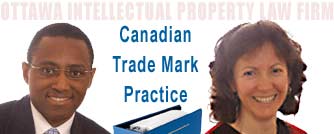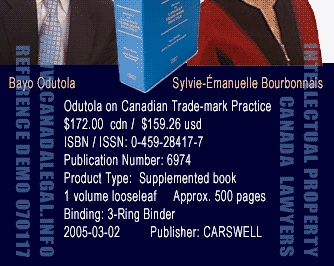 Odutola on Canadian Trade-mark Practice
By: Bayo Odutola, Sylvie-Émanuelle Bourbonnais
Canadian Price: $172.00 US Price: $159.26
ISBN/ISSN: 0-459-28417-7
Publication Number: 6974
Product Type: Supplemented book
Number of Volumes: 1 volume looseleaf
Number of Pages: Approximately 500 pages
Binding: 3-Ring Binder
Publication Date: 2005-03-02
Publisher: CARSWELL
www.carswell.com/description.asp?docid=3816

About the Author
Odutola [contact info]} on Canadian Trade-mark Practice [emphasis added], "... a newly published landmark text, is the much needed practitioner's guide to Canadian Trade-mark Office practice and procedure - it is the most comprehensive book on the market today. Written from both a former senior trade-mark examiner's and a practitioner's perspective, it provides a detailed step-by-step guide for filing, prosecuting, renewing and opposing a trade-mark before the Canadian Trade-marks Office (TMO). In addition to incorporating the relevant statutes, case law, practice notices and other source materials, this work explains and offers practical guidance and commentary on key Trade-mark office practice issues. "

[above quoted fr. Carswell.com publishers website 2007.01.16
> Protecting IP Assets in Canada & Around the World

" If you are a brand or technology owner, you don't have to be told about the value of protecting and enforcing your assets. You know that your IP assets face market threats that will see it diluted or misappropriated over time.

That is where we come in with our specialized IP expertise. Our clients call us when they have major strategic IP challenges in Canada. They reach out to us when they need information, insight and advice. In turn, we help our clients devise an actionable IP strategy and make decisions that will have significant consequences on their business and organization.

We offer a full range of IP experience - from idea/brand protection to litigation and appeals. Our depth and experience in these areas allow us to anticipate potential issues and devise creative solutions. We represent domestic and international clients of all sizes in IP and technology law matters throughout Canada and internationally. ... (go to www.ollip.com/index.php/about-us for more info.)

Our clients' IP assets are secured and managed outside Canada through our network of foreign associates in over 100 countries, as well as our involvement in several global associations including the European Communities Trademark Association (ECTA), the International Trademark Association (INTA), Fédération Internationale des Conseils en Propriété Industrielle (FICPI), MARQUES, Pharmaceutical Trademarks Group (PTMG) and Association Internationale pour la Protection de la Propriété intellectuelle (AIPPI).

quote 2012.12.31 fr. www.ollip.com/index.php/about-us
Bayo Odutola, BCL LLB
OLLIP P.C.
280 Albert Street, Suite 300
Ottawa ON K1P 5G8
Canada
Telephone: 613.238.1140
Website: OLLIP.com Intellectual Property & Technology Law
"Protecting IP Assets in Canada & Around the World"
Email: www.ollip.com/index.php/ask-us




---




IPIC member - Toronto and Canada Wide Trade-Mark & Intellectual Property Services from Toronto Area & Ottawa Offices Terrance Carter





---
Reference Publications
Biotechnology Law Report [ISSN 0730-031X - Published Bimonthly ]
"Stands as a record since 1982 of the evolving body of law and government regulation concerning biotechnology, particularly in the industries in which new products from these technologies are developing the most rapidly: pharmaceuticals, chemicals, agriculture, food processing, energy, mineral recovery, and waste treatment. All legal aspects are rapidly reported, and critical and often hard-to-obtain documents are reproduced." [quote fr. www.liebertpub.com/publication.aspx?pub_id=6 2007.01.18]
---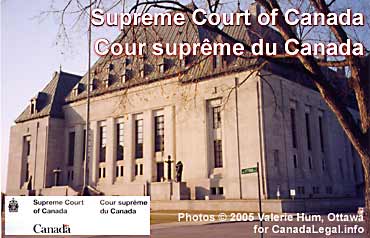 Return to TOP OF PAGE
---
SEE ALSO Patents &amp Trade Mark Vancouver BC Lawyers Directory
© 2013
---
Legal Related Services
---
IP related Research Institutes :

Intellectual Property Lawyer, Ms. Shen Goh serving Mississauga Region for Carters
Lawyers Directories
Canada Intellectual Property & Technology Lawyers
Alberta Lawyers Directories & Lists
Canadaian Bar Associaton, BC Chapter Dial-a-Law Service information in Chinese from website www.cba.org/BC/Public_Media/dal/
家事专题号码禁驶期间驾驶5192 入息援助:复审与上诉5288 离婚、分居或赡养费驾驶没有投保的车辆5193 信用、债务、消费者法 拨电查法律中所有专题提供