The map shows the municipalities and cities that make up most of Metro Vancouver (formerly known as GVRD, Greater Vancouver Regional District) of Vancouver, West Vancouver, North Vancouver, the District of North Vancouver, Burnaby, Richmond (where the international airport is located), New Westminister, Surrey, Delta, White Rock, the City of Langley, Coquitlam, Port Coquitlam, Port Moody, Anmore, Pitt Meadows, Mapleridge and the Univeristy Endowment Lands (UBC). Note: Delta, Surrey and the Township of Langley share part of their borders with the U.S. State of Washington.
Canada Immigration Lawyers and Corporate Intra Company Transfer Services
Relocating-Immigrating to Vancouver? Looking for an Intra Company Transfer or NAFTA Work Visa? Consider Canada's Immigration & Business Lawyers, LOWE and COMPANY Visit their extensive web site at CanadaVisaLaw.com
Lawyers and paralegal staff have served clients and companies from over 50 countries during the past 25+ years. Staff are fluent in: English, Mandarin Chinese, Cantonese Chinese, Teo Chiu Chinese.

Offices at #900 - 777 West Broadway, Vancouver
email info@canadavisalaw.com
---
Vancouver Personal injury lawyers - experienced with brain damage, spinal cord injuries, amputations, chronic pain and fibromyalgia, fractures, soft tissue injuries, associated costs of future care, physical rehabilitation issues ...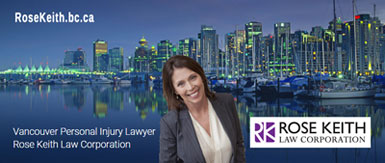 ROSE KEITH, JD, serves Metro Vancouver with
Over 20 years experience in representing individuals injured in motor vehicle accidens and in ICBC injury claims disputes with a variety of injuries including: brain injury, spinal cord injury, chronic pain, psychological injuries and soft tissue injuries. Focus is on ensuring full compensation for all losses suffered.
Also experienced with · Wrongful Dismissal · Sexual Harassment · Contractual Disputes · Civil Litigation
Website: RoseKeith.bc.ca Office on West Hastings, in the Coal Harbor area of downtown Vancouver Downtown Vancouver street map to offices

BRUCE LEMER, LLB serving Metro Vancouver, BC
Over 30 years experience as a personal injury, medical malpractice / professional negligence lawyer. .
· see brucelemer.com / icbc-motor-vehicle-accidents / overview
· see BruceLemer.com/medical-malpractice/overview
Website: BruceLemer.com
Office in downtown Vancouver, Gas Town district
see also more information at Vancouver listings

Z. PHILIP WISEMAN, B.A., J.D. serving Metro Vancouver, BC
His American legal background is useful in handling cross-border cases. He offers services in Cantonese, Mandarin, Polish, Vietnamese, Russian and German.

Website: www.zpwlawcorp.com

see also more information at Lawyers-BC.com
Offices on West Broadway, in Vancouver near VGH (hospital)
Cross Cultural and Diversity Consulting Services
With a population where more than 50% of the residents were not born in Canada, Vancouver has developed some special anti-racism and diversity program development and evaluation consulting services.
Visit the web site of Adrienne Chan, PhD. (Kent) www.GetDiversity.com for more information.
Credits:

This map was designed by Weller Cartographic Services ltd. MapMatrix.com and modified with permission by CanadaLegal.info as part of the British Columbia, introduction to legal information section.