Canada Immigration Law & Quebec Provincial Laws & Services
---
Montreal Quebec Canada Immigration Lawyers
Other Montreal Information
Immigration to Québec - Provincial Government of Quebec
Quebec's Provincial Legislation and Courts
Canada Immigration Lawyers City Directories
Finding & choosing Canadian Immigration Lawyers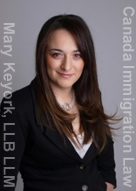 Mary Keyork
fluent in French, Armenian & some Spanish
Citizenship & Refugee Services
Toronto & Montreal
Montreal Quebec - Canada Immigration Lawyers Directory
How do you find a lawyer to handle your immigration case in Quebec's largest city? How do you decide which one to use? What is the difference between a immigration lawyer / a immigration consultant / a relocation specialist?
For help with your: Independent Skilled Worker Applications | Intracompany transfer work permits | Temporary NAFTA work permit | deciding on Investor vs Entrepreneur Category | Appeal of Immigration Refugee Board decision | Family Sponsorship | Student study permit | etc. consider the lawyers listed below.
BELLEMARE & VINET ATTORNEYS

·Albert Bellemare, has more than 20 years experience in Canada Immigration Law and "... He has litigated and appeared before several courts such as the Federal Court of Canada, the Superior Court of Quebec, the Appeal court of Quebec and the Supreme Court of Canada.&quot: [quote fr. website 2012.01.07]
·Ms. Christine Vinet, "...Her practice has been focused solely in immigration since 1987 from which she acquired a vast experience in all immigration sectors as well at the provincial level as at the federal level.
She has successfully represented clients from different continents and countries such as Algeria, Bangladesh, India, Pakistan and from several South American countries. She has performed several business trips throughout the world. She speaks French, English and Spanish." [quote fr. website 2012.01.07 ]

Bellemare & Vinet Attorneys
1, rue McGill, B.P. 105
Montréal, Québec
H2Y 4A3 Canada
Web site: www.immigrationcanadaquebec.com

Richard Kurland, B.A., LL.B., B.C.L.
KURLAND, TOBE
Canada Immigration Lawyers
425 St-Sulpice
Montreal, Quebec
Canada H2Y 2V7
Phone: (514) 288-5252
Web site: www.canimmigrate.com

See section on Class Action Updates www.canimmigrate.com/index.php?p=1_4_Class-Action


Campbell Cohen
Canada Immigration lawyers
over 25 years experience
Head Office & Mailing Address Campbell Cohen Law Firm
1980 Sherbrooke Street West,
Suite 800
Montreal, QC, Canada
H3H 1E8

Telephone: 1.514.937.9445
Toll-free in USA and Canada: 1-888-947-9445
Email address: info@canadavisa.com
Web site: www.canadavisa.com


Isabelle Dongier, LL.L.
Canada Immigration Lawyer

"...specializes in corporate immigration law, helping companies obtain temporary work permits and permanent residency visas for executives, professionals and specialized employees. Her practice focuses mainly on confirmation exemptions under the NAFTA, the CCFTA, the GATS and Canadian legislation, allowing fast-track approval procedures for employees transferred from overseas, certain professionals or other experts and strategic employees. She also counsels clients on other aspects of international mobility such as work permits for spouses, eligibility for English instruction in Québec and customs matters...."[quote fr. www.fasken.com/isabelle-dongier [update link 2012.01.07 ]

Montréal Office
Stock Exchange Tower
P.O. Box 242, Suite 3400
800 Place Victoria
Montréal, Québec
Canada H4Z 1E9
Tel: 514.397.7625
Website: www.fasken.com/isabelle-dongier


Avrom A. (Avi) Gomberg
Canada Immigration Lawyer with
GOMBERG DALFEN, S.E.N.C.
Avocats · Barristers · Solicitors
Barreaux/Bar: Québec et/and Ontario

GOMBERG DALFEN
Law Firm Specializing in Canadian Immigration Law Services

281, rue de la Commune Ouest
Montréal, Quebec
Canada H2Y 2E1
Tel: 514.845.0991
Website: www.gombergdalfen.ca



"Parienté Immigration Law Firm
provides Legal Immigration assistance with Canada Immigration, Spouse Sponsorship, Canadian Visas & Appeals. For Top Canada Immigration Lawyers Service!"

GAD PARIENTÉ, SENIOR ATTORNEY
83 St. Paul West
MONTREAL,QUÉBEC
CANADA, H2Y 1Z1
Telephone: (514) 961-6222
Toll Free: 1.888.935.6226
Web site: www.pariente.ca


PRIMUS IMMIGRATION EXPERTS
"At Primus, we take pride in representing only two immigration classes: The Economic Class (professional/skilled workers, government approved immigrant investor program, entrepreneurs and self-employed) and the Family Class (Canadian permanent residents or citizens wishing to sponsor a relative for permanent residence in Canada)" Primus is led by attorney Isabel J. De Oliveira who has over 21 years experience with Canada and Quebec immigration law. [quote; 2012.01.07]

Montreal
Head Office
Primus Immigration Experts Inc.
2006 Amherst, Montreal,
Quebec H2L 3L8, Canada.
Tel: 514 288 3886
E-mail: info@primusimmigration.com
Website: primusimmigration.com/about...


Colin Singer, LLB
4999 Ste-Catherine St. West
Suite 510
Montreal, Quebec
Canada H3Z 1T3
Telephone: 1.514.487.2011
Web site: www.singer.ca Web site in French: www.immigration.ca/french


Melvin Weigel, L.L.B.

"LANGUAGES: English, French, German, Spanish, (spoken) Chinese, and basic Arabic. " [fr. website 2012.01.07]

Étude L&eacutegale Weigel Law Office
1470 rue Peel street.
Suite B-915, Montreal, Quebec
H3A 1T1
CANADA
Tel: 1-514-845-8146
Email: wlomtl@compuserve.com
Web site: wlomtl.com/WLO/About_us.html


If you are looking for a Canadian Immigration Law Firm for Lawyers and Registered Canada Immigration Consultants, in Vancouver, BC - consider:
LOWE, Jeffery S. B.Com., LL.B.
Lowe and Company
#900 - 777 West Broadway
Vancouver, BC V5Z 4J7
Tel: 604 875-9338
Website: www.canadavisalaw.com
Lowe & Co. lawyers and staff speak: English, Chinese Mandarin, Chinese Cantonese, and Chinese Teo Chiu. and have served clients from over 65 countries over the past 25 years.
---
www.barreau.qc.ca/en [Quebec Bar Association]
---
Web site Disclaimer
This site lists lawyers with areas of practice including Canada Citizenship and Immigration / Refugee Law - we advise you to verify if the lawyer is still maintaining their membership with the Law Society of BC by going to www.lawsociety.bc.ca as lawyers move or change areas of specialization over time.
The intent of this web-site is to provide "starting points" for people looking for sources of legal information and specialists. Information on this web site is not to be seen as legal advice -- for that you directly consult a lawyer.
This site is not endorsed by web sites to which it provides links to, unless otherwise noted, where a particular lawyer has volunteered to become a content contributor.
Credits
Photo of Ottawa's Parliament Buildings from Adrienne S. Chan, Ph.D, a Vancouver based consultant in diversity/ anti-racism/ multiculturalism training, research, organizational development, program development and review. See www.GetDiversity.com
Errors or Omissions
If any lawyer-firm notes that we have made an error or omission in our mention of them on this web site, please send us email with the appropriate information.
Immigration to Québec - Official Site of Provincial Government of Quebec
www.immigration-quebec.gouv.qc.ca/en/
"Why Chose Québec?"
English Choose Québec
Français Pourquoi choisir le Québec?
Relations avec les citoyens et immigration
"Living in Québec means living in a democratic francophone society offering many advantages: a low cost of living, accessible education and health services, spacious and affordable housing, a secure living environment, and an environment full of attractions and abundant space. " [quote fr. website 2004.03.16
---

Mary Keyork, LLB LLM
fluent in English, French and Armenian and has conversational abilities in Spanish.
Click for more information
---
Things to consider when selecting a lawyer practicing immigration law
See our on-line & off-line things to consider including client testimonials in your selection process
Twenty Questions to Ask - Before You Hire a Lawyer
An excellent Checklist for someone to use in selecting a lawyer, has been prepared by the publishers of www.lawyers-bc.com/tips.htm. You will find these guidelines useful for not just Immigration Lawyers but other types of lawyers also.
Immigration Canada - Government Reference Info on the Web
Canada Immigration Updates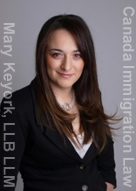 Mary Keyork, LL.B., LL.M.,
Barrister Solicitor,
Immigration, Citizenship and Refugee Lawyers,
Canadian Immigration Alliance
Mary is fluent in English, French and Armenian and has conversational abilities in Spanish.
Mary Keyork holds a degree in Civil Law from the University of Montreal and a Masters in Transnational Law and Common Law from the University of Sherbrooke.
Mary handles immigration applications in all categories and has appeared before all three Divisions of the Immigration and Refugee Board as well as at the Federal Court of Canada, successfully representing clients in complex immigration applications and hearings.
Mary has a diverse background of related international experiences, including internships at the International Labor Organization (ILO) in Geneva, Switzerland and at the Armenian Parliament for the United States Agency of International Development (USAID) in Yerevan, Armenia.
She also served a three year term as a Board Member of the Kasa de Kamu, a help center for young females in Peru and is currently Treasurer of the Armenian Family Support Services, a non-profit community organization whose mission is to provide emergency support, settlement and referral services in the Greater Toronto Area.

Mary is currently a member of the Law Society of Upper Canada, the Ontario Bar Association and the Armenian Bar Association.
Mary is fluent in English, French and Armenian and has conversational abilities in Spanish.
Address:
Mary Keyork, LL.B., LL.M., Barrister & Solicitor
Immigration, Citizenship and Refugee Lawyer
5000 Yonge Street, Suite 1901
Toronto, ON, Canada M2N 7E9
Telephone 416-479-3632
Toll-free 1-855-281-5500
Fax 1-800-450-8641
Skype marykeyorklawoffice
Email mary@marykeyork.com
Website marykeyork.com
Jeffery S. Lowe, Canada Immigration & Business Lawyer, Vancouver BC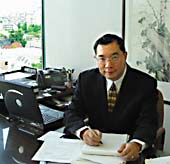 Jeffery S. Lowe heads the Business Immigrant Team and the Global HR Team of Lowe & Company. This firm has helped individuals and businesses in over 50 countries immigrate, do business and handle their intracompany transfer needs e.g. through NAFTA work permits and visas to Canada.
The Company's Business Immigrant Team has brought many Business Immigrants [using the Immigrant Investor & Immigrant Entrepreneur classes] to Canada from Asia, North America, and the Middle East.
The Company's Global HR Team assists Canadian and Multinational companies to bring in foreign workers and executive transferees to Canada [using Temporary Work Permits e.g. through international NAFTA and GATT provisions for intracompany transfers]
Professional Courses and Papers
Jeffrey has taught courses on Canada's Immigration Law to lawyers, Canada immigration officials, and Immigration consultants, both in Canada and abroad, since 1990. These have included:
Overview of Canadian Investor Immigrant Program: Washington State Bar Association: 1990
Canada Business Immigration Law: B.C. Continuing Legal Education Seminar, 1994
Canada Business Immigration from the People's Republic of China: BC Continuing Legal Education Seminar, 1994
Canada Business Immigration for non-Immigration Lawyers: BC Continuing Legal Education Seminar, 1998
Canada Investor Immigration Update: Immigration Lawyers Subsection, Canadian Bar Association, 1998
Proposed Immigration Regulations Change Provisions For Foreign Religious and Charitable Workers: Canadian Council of Christian Charities, April 2002
Visit www.canadavisalaw.com for a wealth of information about Canada's Citizenship and Immigration programs.
Jeffery and his team of lawyers, notaries and relocation specialists are fluent in: English, Mandarin Chinese, Cantonese Chinese, and Teo Chiu Chinese.
Jeffrey S. Lowe
barrister & solicitor, B.Comm., LLB
Lowe and Company
#900 - 777 West Broadway,
Vancouver, BC, V5Z 4J7
Canada
phone: 604-875-9338 fax: (604) 875-1325
e-mail: info@canadavisalaw.com
web-site: CanadaVisaLaw.com
---
---
This page is in part sponsored by Lowe & Company CanadaVisalaw.com/home.htm as a public service for people looking for immigration lawyers and services in the Vancouver area.
Legal Related Services
---
Lawyers Directories
Vancouver BC Personal Injury Lawyers

Rose Keith, Vancouver Personal Injury and Employment Law Lawyer. Experienced representing individuals injured in motor vehicle accidents with a variety of injuries including brain injury, spinal cord injury, chronic pain, psychological injuries and soft tissue injuries.
Read her articles on Wrongful Dismissal in BC and Personal Injury & ICBC Claims.

Philip Wiseman's Personal Injury American legal background is useful in handling cross-border cases. He offers services in Cantonese, Mandarin, Polish, Vietnamese, Russian and German.
Alberta Lawyers Directories & Lists