Employment Law and COVID-19

Victoria employment & business lawyers at Hutchison Oss-Cech Marlatt examine issues on impact of Covid 19 on B.C. Employment Law

"In these uncertain times with businesses and public entities being ordered to shut down or voluntarily shutting down, employers and employees dealing with mass lay-offs, an employment insurance system being vastly revised and many other pressures, it is clear that our employment law is being looked at with a different interest at the moment. ..." We have put up a web page with the following CONTENTS AREAS:

COVID-19 and Safe Work Environments: Workers Compensation
Employment Insurance Eligibility and Sickness Benefits
Employment Insurance Applications
Lay-Off vs. Dismissal
Lay-Off of Provincially Regulated and Non-Unionized Employees
Lay-Offs in Federally Regulated Industries
Lay-Off of Unionized Employees
Frustration: Impact on BC Employment Standards Act
Frustration: Common Law
Mitigation: Reasonableness in an Unreasonable Time

For more details about the above contents go to: www.hom-law.com/ practices/ employment-law/ employment-law-and-covid-19
BC Employment Standards Act
[RSBC 1996] CHAPTER 113
The purposes of the Act are stated as https://www.bclaws.ca/civix/ document/id/ complete/ statreg/ 00_96113_01#section2 - following points are quoted from the Act:
(a) to ensure that employees in British Columbia receive at least basic standards of compensation and conditions of employment;

(b) to promote the fair treatment of employees and employers;

(c) to encourage open communication between employers and employees;

(d) to provide fair and efficient procedures for resolving disputes over the application and interpretation of this Act;

(e) to foster the development of a productive and efficient labour force that can contribute fully to the prosperity of British Columbia;

(f) to contribute in assisting employees to meet work and family responsibilities.
See copy of the Act online at https://www.bclaws.ca/civix/ document/ id/complete/ statreg/ 00_96113_01#part12 this on-line Act is current to August 12, 2020 (as of Sept. 04, 2020 - when reference made on this site to the www.bclaw.ca site)
"The law in B.C. sets standards for payment, compensation and working conditions in most workplaces. The standards promote open communication, fair treatment and work-life balance for employees." ( quote 2020.09.04 from BC Government Web site at: https://www2.gov.bc.ca/ gov/content/ employment-business/ employment-standards-advice/employment-standards )
This is a screen-shot of the Menu of the B.C. Government web site information, mentioned above, click on the image and it will take you directly to the site:
What does Employment Standards Act say about "Getting Fired for Just Cause"?
Go to https://www2.gov.bc.ca/gov/ content/ employment-business/employment-standards-advice/ employment-standards/termination/quit-fired#getting-fired
Employers must prove "just cause"

If an employer proves an employee was fired for just cause, there is no requirement to pay compensation for length of service.

An employer can fire an employee with just cause if they commit a serious offence. For example, if an employee steals, commits fraud, acts dishonestly, assaults or harasses others, or breaks company rules.

Unsatisfactory performance (e.g. an employee is unable to perform job duties) or minor misconduct (e.g. lateness or not coming to work) are not considered just cause. An employer can fire an employee for these reasons as long as they give notice and/or pay.

An employer may be able to fire an employee for these reasons without notice or pay if they can show they did certain things. For example, the employer must prove that the employee:

Was told clearly what the employer's reasonable standards are
Was told that they weren't meeting the standards
Had reasonable time and help to meet the standards
Was warned that they would be fired if they did not improve their behaviour
Still didn't meet the standards after all of the above

Employers must provide clear and consistent standards for all staff. They also need to act in a reasonable amount of time to correct employee behaviour. If they cannot show proof that they did this, they may not be able to prove just cause.

Employers do not need to give written notice or pay if they fire an employee for just cause.

Employees who feel they have been fired without just cause can sue for wrongful dismissal. This is different than making a complaint for compensation for length of service with the Employment Standards Branch. If an employee chooses to go to court, they should seek legal advice. The Employment Standards Branch cannot provide legal advice. [emphasis added]

(above quoted from Employment Standards Act government web site info. last updated August 31, 2020 at link https://www2.gov.bc.ca/gov/ content/ employment-business/employment-standards-advice/ employment-standards/termination/quit-fired#getting-fired)
---
METRO VANCOUVER BC EMPLOYMENT / LABOUR / WORKPLACE LAWYERS
Rose Keith, QC, workplace lawyer and mediator, has over 25 years "... extensive experience advising both employers and employees on employment related matters including:
· wrongful dismissal,
· constructive dismissal and
· human rights.
Her practice has included:
· work place investigations &
· development of comprehensive work place policies including creation and implementation of bullying and harassment policies and procedures."
Rose Keith, Associate Counsel
Harper Grey LLP
3200 - 650 West Georgia Street
Vancouver, British Columbia, V6B 4P7
Canada
Tel: 604 895 2911
Email: rkeith@harpergrey.com
Go to her webprofile at https://www.harpergrey.com/lawyer/rose-keith
See some of Rose Keith, QC articles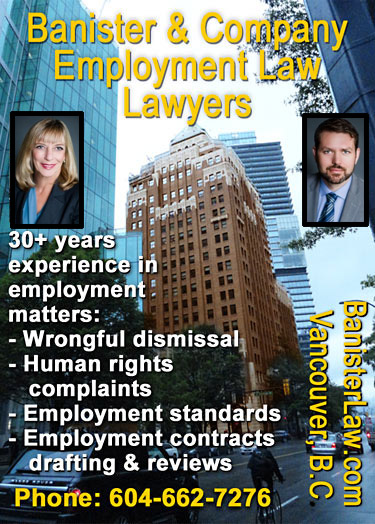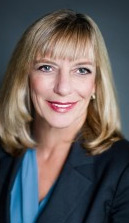 Sandra Banister LLB QC
Wrongful Dismissal & Employment Law Lawyer.

Over 30 years experience in labor law, Human Rights & Employment law.
Sandra has practiced labour law and civil litigation (with an emphasis on employment and personal injury law) for over 30 years.
Born and raised in the lower mainland, Sandra graduated from law school at the University of British Columbia, and was subsequently called to the British Columbia bar in 1982, after completing a clerkship with the British Columbia Supreme Court.
Sandra regularly appears at the British Columbia Court of Appeal, the British Columbia Supreme Court, labour arbitrations, the British Columbia Labour Board, and the Human Rights Tribunal. She has also appeared before the Quebec Court of Appeal, the Quebec Superior Court and the Manitoba Queen's Bench.
She draws on over 30 years of administrative law and personal injury / trial law experience in her work with wrongful dismissal / wrongful resignation clients and consultation regarding employment contracts.

Sandra has also served as counsel representing labor unions such as:
The Canadian Labour Congress
BC Ferry and Marine Workers
Steel Workers Union and, Iron Workers Union .
IWA [International Woodworker] in BC - and - has had clients as far east as the Province of Quebec.
For more information go to Banisterlaw.com/employmentlaw
BANISTER & COMPANY
#670 - 355 Burrard St. ( The Marine Building )
Vancouver, BC, Canada V6C 2G8
Website: www.banisterlaw.com
Telephone: 604-662-7276
Phone Toll Free 1-877-662-7276.
Jonathan Hanvelt, MA LLB

Jonathan has been practicing with Banister & Company since 2010. See BanisterLaw.com...hanvelt

On graduating from the University of Victoria's faculty of law in 2007 - he clerked at the British Columbia Supreme Court and completed his articles with a large downtown law firm.

He has appeared at the British Columbia Court of Appeal and the British Columbia Provincial Court. He has also Represented clients at:

- the BC Human Rights Tribunal,
www.bchrt.bc.ca
- the British Columbia Labour Board,
www.lrb.bc.ca
- the Workers' Compensation Appeals Tribunal,
www.wcat.bc.ca
- the Review Division of WorkSafe and
worksafebc.com/claims /review_ and_ appeals/... division
- at mediation.

Jonathan has taught at the Canadian Labour Congress Winter School and currently sits on the Employment Standards Coalition, an organization that is seeking legislative reform to better working conditions in the province.

Jonathan Hanvelt,
Barrister & Solicitor
Banister and Company,
670 - 355 Burrard St.
(Marine building)
Vancouver, BC

Phone: 604-662-7276
Toll Free: 1-877-662-7276

Web site: BanisterLaw.com
---
Jeremy Bryant BA JD

Jeremy has been practicing with Banister & Company since 2017. He also articled and worked as a summer student with the firm.

Jeremy has represented clients at the Labour Relations Board, Employment Standards Branch, and Workers Compensation Appeal Tribunal.

Jeremy enjoys teaching Labour Law and has taught courses for the Vancouver & District Labour Council and the Canadian Labour Congress' Winter School.

He has also volunteered as an Ombudsperson for B.C. Hockey.

Before attending law school, Jeremy served as Provincial First Vice President of the BC Ferry & Marine Workers' Union.

Jeremy Bryant,
Barrister & Solicitor
Banister and Company,
670 - 355 Burrard St.
(Marine building)
Vancouver, BC

Phone: 604-662-7276
Toll Free: 1-877-662-7276

Web site: BanisterLaw.com/jeremy-bryant
FRANK M. BAILY, BSc. LLB
Employment Law Practice Area
"Frank has practiced law for over 40 years.
Initially in his career, he concentrated on commercial litigation and criminal prosecution at all the Court levels. Frank now practices primarily in the areas of corporate and commercial law, estate litigation, and all areas of estate planning."
In 2008-2009 he served as a Director of the Burnaby Board of Trade www.bbot.ca
He has extensive experience in structuring corporate and commercial acquisitions, tax restructuring, corporate reorganizations and employment issues.
Areas of Practice:
* Estate Planning & Estate Disputes
* Shareholder Disputes
* Employment Disputes
* Corporate and Commercial Transactions
Education:
Bachelor of Science, University of Manitoba - 1964; Bachelor of Law, University of British Columbia - 1967 Call to the Bar - 1968
FRANK M. BAILY
Baily McLean Barristers & Solicitors
900 - 4720 Kingsway
Metrotower II
Burnaby, British Columbia
V5H 4N2
Tel: 604-437-6611
Fax: 604-437-3065
Email: fmbaily@bmgm.com
Web site: https://www.bmgm.com/bailymclean

---




FERHAD SEAN AMIRI, JD
fluent in Dari, Farsi خدمات به زبان فارسی, Pashto, Urdu & Hindi

Licensed to practice in BC and Ontario.

His practice areas are: Family Law, Real Estate, Wills & Estates, Corporate Law, Employment Law, Immigration & Personal Injury

We are located inside Metropolis at Metrotown Mall across from the Super Store checkouts.

Our mailing address is:
Suite 1141 - 4700 Kingsway
Burnaby, British Columbia
Canada, V5H 4M1.

To book an appointment and or for further inquiry please contact us:
Phone: 604. 434. 5100.

Website Profile: MetroLaw.ca
---
VANCOUVER, B.C. BUSINESS TECHNOLOGY LAWYERS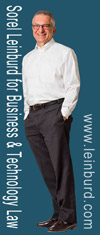 SORÈL LEINBURD, B.A., LL.B.
Sorèl advises clients in business and technology law

While Sorèl does not spend the majority of his time in employment law directly, the issues comes up frequently as he assists business clients in their development plans and of course employment contracts for non-union/management/professional staff

Experienced in employment contract development and review in the high-tech software development sector

"His practice focuses on a few select areas of corporate, business, and technology law with expertise covering business formations, governance, shareholders matters, financing, employee agreements, technology development, licensing, commercial transactions, buying and selling companies, and tax-driven restructurings." (quote from www.bellalliance.ca/ people/sorel-leinburd 2020.09.11)

SORÈL LEINBURD PRACTICE AREAS:

Consulting Agreements
Commercial Financing
Corporate Financing
Distribution Agreements
Franchising
Incorporations

Lease Law
Licensing Agreements
Software Development
Technology Agreements
Trademarks
SORÈ LEINBURD, BA LLB,
Bell Alliance LLP
Suite 201-1367 W. Broadway,
Vancouver, BC,
Canada V6H 4A7
Phone: 604-484-0277
email: sorel@krlb.com
website: Leinburd.com
---
BRUCE REDEKOP, JD

Some of the areas that Bruce can assist with include:

Business organizations and reorganizations
Business or property sales and acquisitions
Finance
Trade-marks and intellectual property
Contracts
Lease matters
Shareholder agreements
Employment Law
Commercial disputes
Business and property succession

Bruce's clientele is comprised of entrepreneurs, independent business owners and professionals.

BRUCE REDEKOP
Bell Alliance
Suite 201 – 1367 West Broadway,
Vancouver, B.C. V6H 4A7

Tel: 604 873 8723 Toll Free: 1.888.577.9904 www.bellalliance.ca/people/bruce-d-redekop
---
EMPLOYMENT LAW SERVICES
An introduction to range of services lawyers offer employers and employees
from McConnan Bion O'Connor Peterson mcbop.com

Employment law is a complex and rapidly-developing area. Our lawyers act for both employees and employers, bringing experience and expertise to the table when assisting with a range of employment issues.

For employers, we offer services to help deal with problems before they happen. Using well-crafted employment contracts and policy manuals helps make sure that your expectations for employees are clear, and will protect your business if disputes arise.

When problems can't be avoided, we'll help you find a fair solution that meets your business needs. Our lawyers are equipped to support your business through legal disputes, or to help reach a fair and unbiased resolution internally by acting as independent third-party investigators.

For employees, we help make sure that your rights are protected. If you're facing termination, discrimination, or harassment at work, you can trust our lawyers to advocate for you and help you get the result you deserve. We're also happy to review employment contracts, severance packages, and other employment agreements (such as non-disclosure, non-compete, and non-solicitation agreements) and explain them to you in plain language.

We can help you with:

Drafting and reviewing employment contracts, non-compete and non-solicitation agreements, and employer policy manuals
Enforcing or challenging employment contracts, non-compete and non-solicitation agreements
Wrongful, constructive, or just cause dismissals
Termination of employment
Severance package reviews
Pension and benefit issues
Workplace harassment and bullying
Workplace discrimination and human rights complaints

Our lawyers who practice employment law include:
VICTORIA, B.C. EMPLOYMENT, LABOUR LAW and WORKPLACE LAW LAWYERS
MICHAEL R. MARK, BA LLB

Experienced civil litigator with over 25 years experience - including clients with:

wrongful dismissals for senior executives,
employment law issues
and Canada Revenue Agency complex appeals,
wills & estate litigation
and personal injury cases e.g. ICBC catastrophic injury claims disputes.
Michael is a senior partner in the law firm of McConnan Bion O'Conner Peterson, where many of the lawyers are experienced solicitors in commercial-business-law and employment contracts -- Michael is involved when there are litigation issues arising from wrongful dismissal and employment disputes.
Michael R. Mark
Barrister & Solicitor
McConnan, Bion, O'Connor & Peterson Law Corp.
Suite #420 - 880 Douglas Street,
Victoria, B.C. Canada V8W 2B7
Phone 250-385-1383
Toll free 1-888-385-1383
E-mail: mmark@mcbop.com
Web Site: www.mcbop.com/michael-r-mark/
Map to office: Victoria, downtown location
---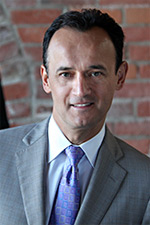 LORENZO OSS-CECH, BSC LLB


Lorenzo is a skilled litigator who works with clients in wrongful dismissal and other employment contract litigation.

He is fluent in Italian, Spanish and has a good working knowledge of French.
Lorenzo has extensive knowledge and experience in the following areas of law:
ICBC Injury Claims
Medical Malpractice
Construction & Building
Wealth Management & Estate Planning
Corporate Securities Litigation
Lorenzo is very involved in volunteering. He is active in the Access to Justice pro-bono clinics, which offer free legal advice to people unable to afford it. He was a board member of the YM-YWCA of Greater Victoria for 6 years, for 2 of which he was President YMCA/YWCA of Vancouver Island.
Lorenzo is an active board member and legal counsel for The David Foster Foundation.
Lorenzo G. Oss-Cech
Barristers & Solicitor
#1 - 505 Fisgard St.
Victoria, B.C. Canada V8W 1R3
Phone: (250) 360-2500
Toll Free: 1-866-887-4878

Email: lgo@hom-law.com
Website: www.hom-law.com/lawyers/lorenzo-g-oss-cech/
Map to office: Victoria location
---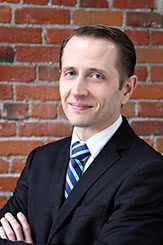 DANA G. QUANZ, LLB
Dana is an experienced trial lawyer who has worked with Hutchison Oss-Cech Marlatt since 2011. He is a graduate of the University of Victoria Law School.
Dana regularly assists employers and employees with:
Wrongful Dismissal
Constructive Dismissal

Discrimination, Harassment, and Human Rights
see also BC Human Rights Tribunal
Disciplinary Proceedings
Employment Standards
WorkSafeBC and Workers Compensation Board claims, appeals & reviews
Personal Injury & Truamatic Brain Injury Claims
Dana has sat on the Board of the Vancouver Island Human Rights Coalition and regularly represents clients at the British Columbia Supreme Court, Human Rights Tribunal, and Workers' Compensation Appeal Tribunal.
Contact him for a free consultation. He will do his best to make sure you are properly represented.
Dana Quantz
Barristers & Solicitor
#1 - 505 Fisgard St.
Victoria, B.C. Canada V8W 1R3
Phone: (250) 360-2500
Toll Free: 1-866-887-4878

Email: dgq@hom-law.com
Web profile: www.hom-law.com/ lawyers/ dana-g-quantz/